Membership at Dallas Makerspace helps the dream of running an entry in the Red Bull Soapbox Race become a reality!
---
UPDATE: Team Bomb Pop Racer took the silver in the competition! Check out Cynthia Miller's write up for The Colony Magazine for a fun recap and some great pictures.
---
TEAM SMOKE ON THE WATER TC
Team Smoke on the Water's fire engine entry replicates in 2.45:1 scale the city of The Colony's first fire truck, a 1950 General. DMS member Kevin Braby used our lasers to cut the acrylic templates for the coroplast fenders. Although the frame and other accoutrements were largely cut/welded/assembled at The Colony's city facilities, DMS will happily take credit for moral support!
Keep up with the build/progress (and the race, if we're lucky!), as well as meeting the team members and peering into their training regimen at their Facebook page.
Vote for the team by scrolling to the bottom of their team page, and clicking on the "VOTE FOR US" banner.
---
TEAM BOMB POP RACER
Team Bomb Pop Racer "built their whole soapbox racer at DMS", according to member Bud Farnham, whose son Bryce Farnham will be driving their icy entry. After modeling the car in Autodesk Fusion 360 (DMS takes credit for this, but really, Fusion is the "go to" CAD/CAM package for the serious hobbiest, and we just do our best to help each other when needed) making the idea a physical reality began. Various parts were cut using the Dynatorch SuperB CNC Plasma Cutter. The steel frame was welded with DMS' Miller 252. The red, white, and blue aluminum bodywork was powder coated in Dallas Makerspace's large oven.
Check out this Fox 4 coverage of Team Bomb Pop Racer!!
Follow the team's Instagram @teambombpopracer (thanks to team member Kyle vonBehren for keeping it current.)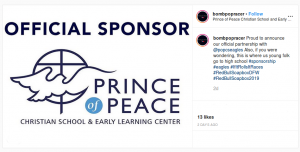 Even their high school, Prince of Peace Christian School & Early Learning Center helped this dream come to fruition.
Vote for the team by scrolling to the bottom of their team page, and clicking on the "VOTE FOR US" banner.
---
Dallas Makerspace could not be more proud of our members for all the hard work they put into their entries. We wish them, and all the contestants at Red Bull Soapbox Racer 2019 a safe, fun event.
---
Check out the event page for more information if you want to come and cheer on DMS members, or any of the contestants on Saturday, September 28, 2019. "The Show" starts at 11:00AM, and racing with Live Coverage starts at 12:00PM CDT.
---
---
What have you made lately? Share it with us on Talk, Facebook, Twitter, or Instagram.