On September 19th of the Year 2015…
Five Dallas Makerspace members became Cyborgs!
Haley becoming a Cyborg!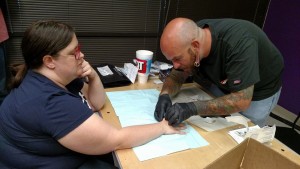 Watch Mitch transform below!
"I hosted a class at the Dallas Makerspace where we got RFID implants in our hands. We can now unlock the doors at the Makerspace with our hands. Also it did hurt quite a bit, but our body modification professional did a great job." -Mitch Cerroni
Krissy and Haley share their experience on having a RFID chip implanted.
Total Recall: Addison Tattoo Shop Implants High-Tech Chips in Your Hand
http://cw33.com/2016/01/12/addison-tattoo-shop-implants-high-tech-chips-in-your-hand/
---
Mitch shared some words of wisdom in the following interview… 
Body Hackers andBioengineers are trying to make DFW a Hub of Implantable Electronics
http://www.dallasobserver.com/news/body-hackers-and-bioengineers-are-trying-to-make-dfw-a-hub-of-implantable-electronics-7909126
---
The next RFID, NFC Implants & Biohacking event at Dallas Makerspace will be on January 23rd 2016 at 11:00 AM!
RFID, NFC Implants & Biohacking
The goal of the class is to learn about RFID/NFC body implants. We will discuss risks and benefits of implanting tags and general body modification questions.
See Eventbrite for more details:
https://www.eventbrite.com/e/rfid-nfc-implants-biohacking-tickets-20084177315