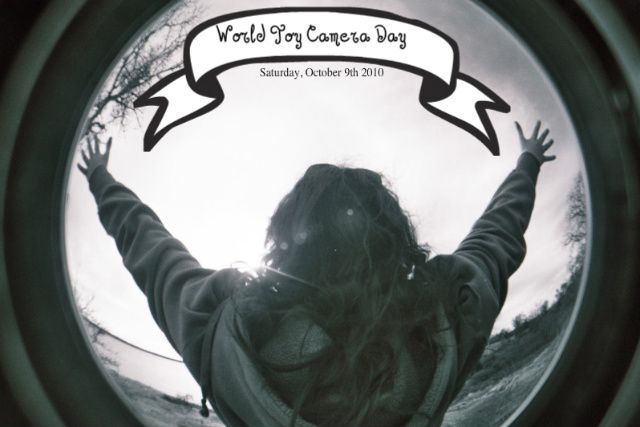 Saturday, October 9th, people around the world will break out their toy cameras for World Toy Camera Day. From shelves and dusty boxes, cabinets and display cases, the cameras of the lomo trend will be out for a day of fun and "happy accidents".  Lomography is a movement that has been sweeping the world over with the release of replica models of plastic and low-fidelity cameras from ages gone by. Holgas, Dianas, Fisheyes and more; these revamped, lost cost pieces let photographers, and those who just want to play, experience the joys of "shooting from the hip".
Toy cameras typcically are cheap pieces made mostly of plastic even down to their lenses. The pictures they produce often have a dreamy other-world quality to them, sporting light leaks, multiple exposures and a unique grain. Despite the ever growing advancement in digital photography, the low-fidelity movement hasn't lost any steam. You can find groups on Flickr and Livejournal that are centered around the images taken with toy cameras.
The Dallas Makerspace will be holding its own event to commemorate this year's WTCD. We will be meeting at 2 pm in down town Dallas' West End district at Corner Bakery Cafe. We will be exploring the theme: Downtown Beauty.
If you will not be able to attend the event in Dallas, but still want to share what you captured that day there is a flickr group for the WTCD where you can load your images from the day (see links below). Dallas Makerspace will also have a set specifically for the WTCD pictures, so feel free to add them to our group pool here. Just make sure you tag them "wtcd", "world toy camera day", and "dallas makerspace".
For future camera and photography events check out the DMS Camera Calander
Corner Bakery Cafe Address:
301 N Market St # 100
Dallas, TX 75202-2068
(214) 651-8650
Other sites to check out:
http://www.lomography.com/
http://www.flickr.com/groups/worldtoycameradayand_then_some/
http://en.wikipedia.org/wiki/Toy_camera